Our Inner West handyman service is quite unique in that we offer a very diverse range of skills and services. Below, we detail some of the jobs we can assist you with but welcome your enquiry on any handyman work – we will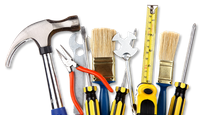 happily offer a totally obligation free quotation.
Small Job? No problem! We will happily remove your old letter box and replace it or remove that old cupboard or install that new planter box or paint that flaking timber work or vacuum out your car or change that light fitting or install energy saving globes or help with the wiring on your new sound system!
Picture Hanging. We have a lot of experience in all areas of picture hanging. We can hang just about any picture on just about any wall. From small prints that need to be hung in a certain pattern on the wall, to large pieces of art work, to 30 kg pictures we have done it. We can supply a huge range of picture hooks, anchors and mounting systems. We have a range of custom made adjustable picture hooks that come in handy when hanging several pictures in a row (or a column for that matter), that need to be exactly in line, either in a vertical or horizontal line. The adjustable picture hooks allow for fine adjustment of the final hanging position of the pictures on the wall. If you need one small print hung or 50 prints or paintings hung we can definitely help you.
Home Repair. If you do not have the time to do those much needed repairs to your home then we are ready to assist you. From replacing rotted weatherboards, to replacing that damaged screen door, to fixing that guttering that has come loose or rusted away, we can do all the repair work your home needs.
Installing Blinds and Curtain Rods. We can install your new blinds, replace and install new curtain rods or roller blinds.
Lacquering and Painting Timber Windows. Do you have cedar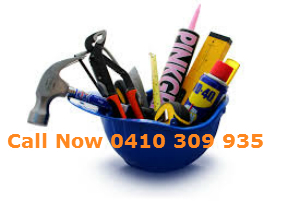 windows that need a spruce up? Timber windows really add to the visual appeal of your home both internally and externally. If the finish, be it lacquer of paint is faded or peeling we can refinish the windows to restore them to their former glory. A recent example is a large cedar timber window we worked on. We sanded back to bare timber and then applied 3 coats of a high quality satin gloss Cabots brand lacquer. The windows now look fantastic!
Simple Garden Landscaping. A small inner west Sydney front yard has been neglected for many years. Basically it was concrete patch with a brick edged garden bed with a huge overgrown bush in that garden bed. We revamped the area into an attractive front garden that was:
low maintenance
functional – attractive sandstone stepping stones were created that allowed easy walking from one side of the garden to the other in all conditions
attractive – a treated pine garden border was built around the garden bed making an appealing feature and clearly defining the boundary between the garden bed and the pathway that had been created.
Plasterboard / Gyprock Installation and Repair. We can assist in all areas of plasterboard work including fixing gyprock to walls and ceilings and associated plaster work. We can advise on installing the most appropriate cornice work and other plaster features. Whether you are renovating a kitchen or adding an extra room we can assist with all your plasterboard work.
All Concrete Work. Whether you need a new concrete driveway, concrete path or indeed any concrete work we can assist. We can also build retaining walls and look forward to your enquiry.
Tiling Services. We have skills in all aspects of tiling. If you are renovating your bathroom or kitchen and need new wall and / or floor tiles installed we can assist. From ceramic to porcelain tiles we can cut, glue and lay just about any tiles you have.
Gate Building or Repair. We can build an attractive looking side gate for your property if your existing gate is dilapidated and beyond repair. Alternatively it may be that it just needs re hanging with a new set of hinges and a coat of paint. We can custom make gates to suit the look of your property.
Custom Made Kitchens and Cabinetry. If you are looking for a custom made bookshelf, custom made entertainment unit or wall unit or a custom designed kitchen we can assist. From design to timber selection to installation..
Shelving. We can install (and supply if you like) shelving to help you 'de-clutter' your home. Shelving systems have come a long way and can be adaptable to your situation and generally adjustable. Some clients like to purchase Ikea shelving systems and we install them.
Sub Floor Ventilation. Many homes in Sydney's inner west suffer from damp and mould during winter months. The cause can often be traced back to inadequate ventilation under the house. We have experience in installing low voltage under floor fan systems that create additional air flow under the house to help with damp problems (depending on the severity of the problem). The fans can be turned on and off each via a preset timer.
Change Light Fittings. If you have bought a new light fitting you know it can be tricky to replace the old fitting. Care needs to be taken that power is switched off, preferably at the switchboard, before trying to replace the light fitting. We can assist and make the process quick and easy.
Flat Pack Assembly Service. Have you purchased an item from Ikea, Officeworks or a similar store that requires assembly work? We can assist you  in just about any assembly work that you require.
Window Cleaning. Need you windows cleaned? The inner west of Sydney experiences high levels of soot and car and truck emitted carbon based pollutants. These deposit on our windows making them dirty in a relatively short period of time. We can wash your windows and leave them sparkling clean.
Property Maintenance. Are you going away on holiday and need someone reliable and trustworthy to look after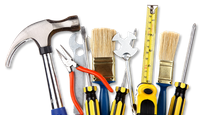 your property? We have experience in all areas of property and home maintenance including, hedge trimming and pruning, watering house plants and lawns, cleaning and generally checking everything is ship shape for your return. We can throw out junk mail, collect your mail, put out your garbage bins – whatever you require.
Carpentry. We enjoy working with timber and are happy to discuss any carpentry projects you have in mind. Maybe you would like a planter box made or some outdoor furniture repaired. We welcome any enquiry.
Custom Made Shelving. Many inner west homes are quite small and storage space is at a premium. We can built custom made shelving to fit in your lounge room (quite often as a bookshelf, or bookshelves), in your laundry to store utensils and cleaning products or in your garage where additional storage is often needed. We can use a very wide range of materials from timber to melamine to steel or aluminium. In the case of a lounge room, for example, we can use lovely recycled timber to create stunning shelving units that really add character to your room, whilst providing additional functionality.
Repair Service. Maybe you have a door that is sticking or coming off its hinges and needs repairing? Or a kitchen cupboard that need fixing. We have a lot of experience in many aspects of home repair like rehanging side gates, small rendering jobs  and re gluing loose tiles We are happy to assist.
Decking and Pergola Construction and Maintenance Service. We can build a stylish new deck or pergola for your home. Having a deck means that you can enjoy meals outside in a lovely area that can be designed and constructed to blend in nicely with your existing home. we can advise on the best decking materials to use, the finishes to apply to the deck and the ongoing care required. If you already have a deck we offer a full maintenance service for decks that include application of decking oils and replacement of timber that may have rotted or weathered over the years.
Door Handyman Services. It is surprising how many enquiries we get concerning doors. It could be that you have a door that sticks or jams or need a new door that requires cutting to size or installing. We can replace old rusty hinges on your doors and change the fitting and fixtures including to door handles and door locks. Changing the front door of your home can dramatically improve the overall appearance of your home and we can assist with these jobs.
Skirting Boards and Window Architraves. We can replace or repair most profiles of skirting boards and window and door architraves. This is a popular handyman service for clients doing major renovation work. We can source and install skirting boards that are true to the original character of Federation period homes.
Painting. We have extensive experience in all aspects of painting and are happy to assess and discuss your job in
detail. We can paint your walls, ceilings, skirting boards, doors, window frames, exterior trim and any special project you may have. Paint technology is constantly changing and we can give you our honest opinion on the best and most appropriate paints and finishes to use.
Website Design and Advice. We have considerable experience in building websites like the one you are viewing now, which we built ourselves. Web design does not have to be expensive and we can assist you with all aspects of websites including design, hosting, email account setup and google business pages.
Car Wash. Live in the inner west of Sydney and need your car washed and vacuumed? No problem, we are happy to wash, chamois and vacuum out your car for you.
Call now on 0410 309 935 or make an online enquiry here
All quotations issued and work performed by Handyman Inner West is subject to our terms and conditions